People at the centre



Chiesi's values have always been integrated in our business model. Our work and our commitment are driven by the goal of improving people quality of human life, putting people at the centre of our actions, being them our patients or our collaborators.

Chiesi's people are more than 5.500 all over the world.
Everyday, we try guarantee our employees a familiar, safe and stimulating working environment. We focus on our people's well-being, with programs dedicated to People Development and People Care.
Among these programs:
the Chiesi Academy, a training program dedicated to our employees in partnership with SDA Bocconi school of management;
the People Care program, with the aim of enriching every individual both at personal and at professional level, including workshops dedicated to different subjects, such as healthy diet, parent-child conflicts, emotional intelligence and generational differences;
the Behavior Based Safety (BBS) project is a safety program based on the promotion of a safety behavior that reached the 100% of implementation in manufacturing sites and Research Centres in Italy, producing more than 2.200 suggestions and 60 safety improvement.

Chiesi works in four therapeutic areas: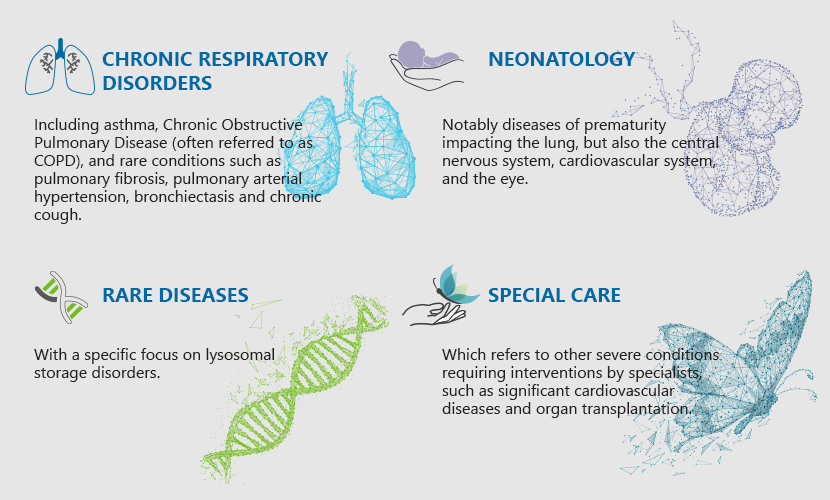 The responsibility toward our patients translate into quality and integrity of our products, listening, comprehension of needs and access to care.
More than 21% of our turnover is dedicated to Research and Development and our work is based putting the patient at the centre, investigating on innovative therapeutic solutions which are able to improve the quality of care and the quality of people and caregivers' life.
To promote health as a fundamental human right, we are committed to expand the access to care for those patients who are in difficult situations and are unable to achieve access to care.

For that purpose, we work together with associations and we promote programs of early access for our medicines, with a focus on exclusive Orphan Medicinal Products with high unmet needs and no alternative treatments available (read here our policy)
To discover more about responsibility toward our people and our patients, click here to read our Sustainability Report.